Who is Caio Machado?
Who is Mick Parkin's opponent at UFC Vegas 82?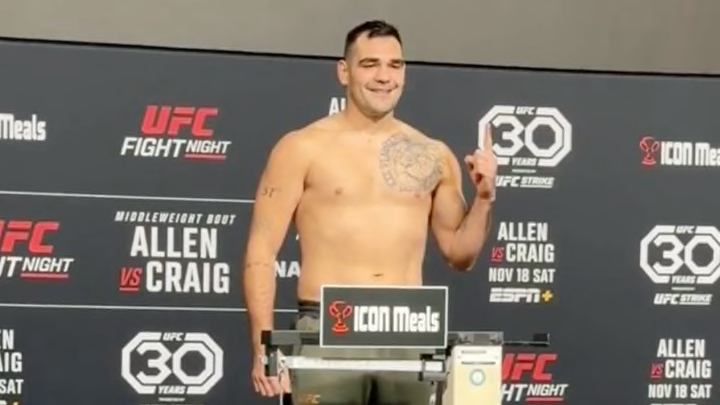 Caio Machado / Twitter
After winning a contract on week one of the seventh season of Dana White's Contender Series, Caio Machado is finally prepared to make his UFC debut at the end of 2023.
Though Machado has an impressive 8-1-1 professional record, he has not yet caught the attention of most fans as a serious prospect. However, Machado earned the most significant win of his career in his last fight by defeating Poland's Kevin Szaflarski as a betting underdog.
Making his debut as a big underdog on a UFC Apex card, Machado could easily be overlooked. Just like his opponent, Mick Parkin, not many people expected Machado to win his Contender Series fight much less make it into the UFC. But in a shallow division such as heavyweight, it does not take much to make noise.k
Who is Caio Machado?
Despite originating from Sao Paulo, Brazil, Machado fights out of Vancouver, British Columbia, and represents the Franco Kickboxing Pankration team. The heavyweight stands at 6'4" with a 78 inch reach.
Machado opened many eyes by defeating Szaflarski on national television. Szaflarski, a former IMMAF champion, entered their fight as one of the most decorated amateur MMA fighters of all time and was supposed to be the UFC's next big star. But with a unanimous decision win, Machado stole all of his hype.
Caio Machado will fight Mick Parkin at UFC Vegas 82
With the win over Szaflarski, Machado is now on a seven-fight win streak with finishes in six of his eight victories. Parkin is coming off of a decision win over Jamal Pogues in his own UFC debut in July 2023. Parkin is undefeated with a 7-0 record.
Be sure to visit the Fansided MMA Instagram page and YouTube channel to discuss this and more content with fans of combat sports.