TUF 31: Who is Mando Gutierrez?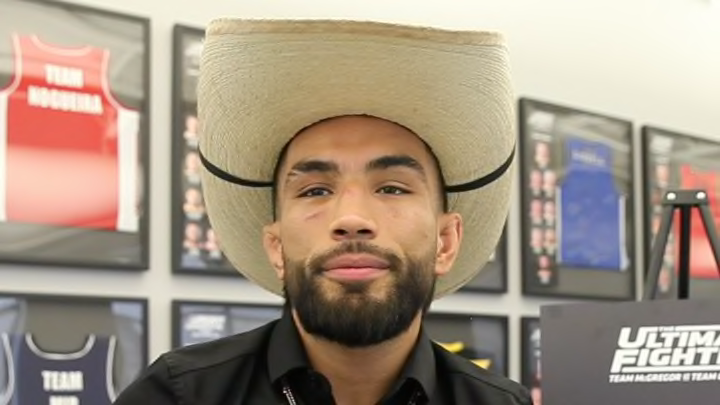 Mando Gutierrez / Amy Kaplan / FanSided MMA
Everything you need to know about The Ultimate Fighter's Mando Gutierrez.
A new season of The Ultimate Fighter is set to kick off and it's one you don't want to miss.
The return of Connor McGregor as a coach sees him face one of the most entertaining fighters in recent UFC history Michael Chandler. With the two set to square off in a fight sometime in 2023, the May 30 premiere could not come any sooner. We'll see eight bantamweights and eight lightweights go head to head and see who truly isThe Ultimate Fighter, and earn a UFC contract in the process.
We are all well aware of who the coaches are but how about the competitors?
The likes of Nate Diaz, Tony Ferguson, and Kamaru Usman were all unknowns until they became The Ultimate Fighter. In order to get you prepped for the 31st season of TUF, it's time to meet one of the bantamweights hoping to reach the heights of past winners and cement his own legacy.
Who is The Ultimate Fighter 31's Mando Gutierrez?
Fighting out of East Lansing, Michigan, Mando 'El Toro' Gutierrez (8-2) is looking for his second chance to earn a UFC contract.
Fans might remember him from his Dana White Contender Series appearance in September 2022, when he dropped a unanimous decision loss to the youngest fighter in the UFC Raul Rosas Jr. Despite his setback, Gutierrez did not let it deter him and would win by knockout for the first time in his career, heading into the TUF house with good momentum.
Training in the same gym as UFC knockout artist Joaquin Buckley, Gutierrez will hope his submission skills, which have seen him win six out of his eight fights, can help carry him through a competitive 135-pound TUF roster.
He did mention that he's been struggling without his main training partner, his dog Aspen, but is looking forward to learning from the richly-experienced coaches, according to his interview with FanSided MMA's Amy Kaplan (see above). One thing is for certain, Gutierrez will certainly be a tough fight for any of the contestants.
The Ultimate Fighter 31 will premiere on Tuesday, May 30, 2023, and will air exclusively on ESPN at 10 p.m. ET/7 p.m. PT. Follow along with FanSided MMA for all your live results and highlights.