WATCH: Fighter KO's his opponent in 2 seconds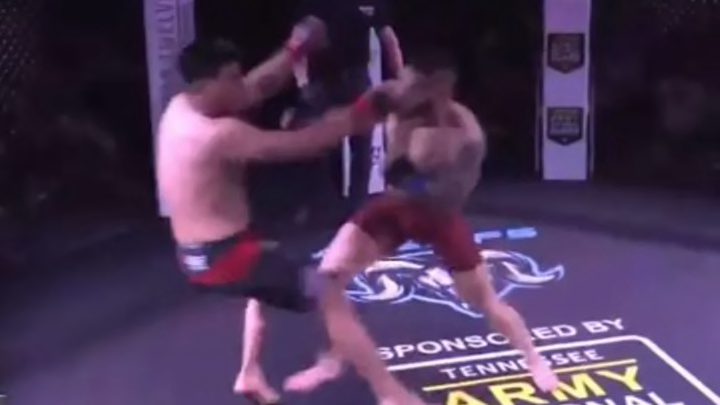 Xavier Horton scores one of the quickest knockouts ever at Aries Fight Series 6.
Move over Jorge Masvidal - there's a new lightning-quick knockout making the rounds on social media. Xavier Horton made quick work of opponent Richard Guererro, shutting the lights off with the first punch he threw.
The commentary summed it up perfectly, the announcer barely had time to say "our undercard is underway" before exclaiming "it's over."
A picture-perfect right hook sent Guererro to the shadow realm - out before he ever hit the canvas. Horton landed a couple of "super-necessary" ground-and-pound shots for good measure, but the fight was already over. Perhaps even more shocking than the lightning-quick KO was the fact that Guererro woke up immediately after the ref stopped the bout - and wanted to keep fighting.
Watch Xavier Horton's lightning fast KO of Richard Guererro
It was by far the quickest knockout on the night at Aries Fight Series 6, an amateur event based out of Chattanooga, Tennessee. Despite the amateur status, it's still one of the fastest KOs you're going to see in an MMA competition.
We can add Horton's highlight to the list of the fastest KOs in MMA history - the official time of the stoppage was two seconds into the fight. That beats Masvidal's five-second KO of Ben Askren by three seconds and Duane Ludwig's six-second KO of Jonathan Goulet by four seconds.
This KO won't be remembered like those though, and that's a shame. Sometimes doing spectacular things in the regionals doesn't register like it does when done in front of the big lights of the UFC, Bellator or PFL. That's exactly why we want to highlight great achievement when we see it.
It'll be interesting to see where Horton goes from here and if he plans on turning pro anytime soon.