UFC Vegas 72 predictions & odds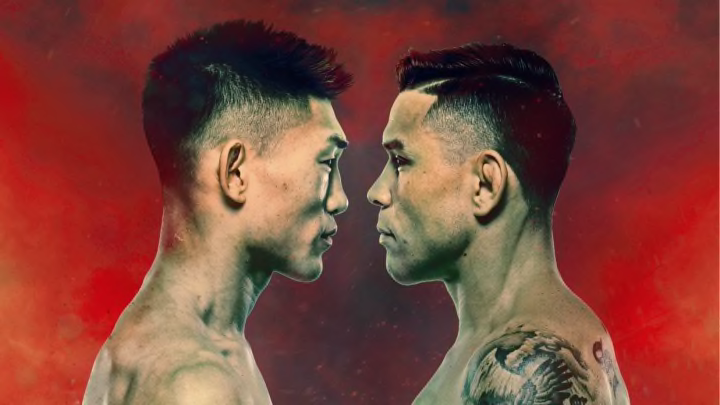 Song Yagong vs. Ricky Simon / UFC
Predicting the outcome of every UFC Vegas 72 main card fight.
After a close call that almost saw the whole event cancelled, UFC Vegas 72 will go on. This Saturday, April 29, live from the UFC APEX, a pair of ranked bantamweight prospects clash to see who can continue their ascend into the top of the division.
The No. 8 ranked Song Yadong (19-7-1 (1NC)) will look to put himself back into the winning column when he faces the No. 10 ranked Ricky Simón (20-3) in what will be his first taste of a UFC main event. The two were initially meant to face each other last week in the co-main event of UFC Vegas 71 but an injury to Renato Moicano, who was meant to headline UFC Vegas 72 against Arman Tsarukyan, pushed the two peripheral contenders into a five-round fight.
The main event might be the only ranked vs. ranked matchup of the night but that doesn't mean that the main card will disappoint. With many fighters looking to either break into the top 15 or extend their momentum, UFC Vegas 72 is unlikely to disappoint.
*All odds are curtesy of DraftKings.com.
Predictions and odds for UFC Vegas 72: Song Yadong vs. Ricky Simón
Josh Quinlan (-165) vs. Trey Waters (+140)
A late addition to the UFC Vegas 72 main card, these are two men that are relatively unknown in the UFC but come into the promotion looking to make a splash in the welterweight division. Josh Quinlan (6-0 (1NC) is yet to taste defeat in his professional career. The Contender Series alumnus won his UFC debut in the very first round, knocking out Jason Witt to keep his record intact.
If Quinlan did not expect to find himself in this position, Trey Waters (7-1) definitely had no idea. During the last LFA card, exactly two weeks before this event, Waters captured the vacant LFA welterweight title with a huge punch KO that went viral. Whether that is what prompted the UFC to sign him will never be known however, at 6 foot 5 and 170 pounds, he is a total specimen for the weight class.
The fact that Waters is so much taller than any other welterweight on the roster, perhaps even the planet, makes it difficult to pick against him. He's also coming into his UFC debut on the back of his best performance yet and he will announce himself with another huge knockout, ending Quinlan's undefeated streak.
Prediction: Trey Waters by KO/TKO
Marcos Rogerio de Lima (-180) vs. Waldo Cortes-Acosta (+155)
Another Contender Series alumnus hoping to keep his undefeated record alive, Waldo Cortes-Acosta (9-0) faces the toughest test of his career when he comes up against UFC veteran Marcos Rogerio de Lima (20-8).
The two heavyweights meet at a good time in both of their respective careers. Cortes-Acosta is 2-0 in the UFC and picked up his last win against Chase Sherman in November 2022. Rogerio de Lima has never managed to string too many wins together but he did defeat Andrei Arlovski by submission in his last fight and his knockout power can never be underestimated.
This appears like a classic prospect vs. gatekeeper fight. For the most part, it seems that prospects tend to get the better of their older opponents. Expect Cortes-Acosta to pick his spots and show the patience he has demonstrated during his first two UFC fights to avoid the big shots from his adversary.
Prediction: Waldo Cortes-Acosta by decision
Julian Erosa (-145) vs. Fernando Padilla (+125)
The UFC appears to have gone full in on new talent for the UFC Vegas 72 card. Julian Erosa (28-10) welcomes Fernando Padilla (14-4) into the UFC roster in what is a clash that appears to close to call. Both men are more than capable on the feet and on the ground, with each boasting multiple wins by both knockout and submission on their resumes.
It will be interesting to see how Erosa bounces back after being knocked out by Alex Careces late in 2022. He's always been on the cusp of a featherweight ranking ever since rejoining the UFC in 2020 but his promotional record stands at an unimpressive 7-6.
Padilla is making the jump into the UFC after impressing at Fury FC and the LFA however, he hasn't competed in almost two years, last making his walk toward a cage/ring in May 2021. This is Padilla's opportunity to announce himself in the featherweight division with a win over a tough Erosa but, his opponent's experience and the fact that he's stayed active will prove too much for the debutant.
Prediction: Julian Erosa by decision
Rodolfo Vieira (-240) vs. Cody Brundage (+200)
Two men who are desperate for a win, the pair of middleweights are on the verge of potentially having one foot out the door in the UFC if they do not start delivering. This is particularly true for Rodolfo Vieira (8-2), a man who came into the UFC with heaps of accolades but has failed to deliver on his potential.
Vieira is considered by many as the greatest heavyweight jiu-jitsu competitor ever, having won multiple world titles at the ADCC and IBJFF world championships. He was supposed to rise up the rankings quickly to challenge Israel Adesanya for the title but was instead submitted in his third UFC fight to the shock of many. His last fight was another loss, this time by decision to Chris Curtis, dropping his UFC record to 3-2.
Cody Brundage (8-3) is younger than his adversary but is facing the same problem. His hype since coming into the UFC has been up-and-down much like his record, resulting in a 3-2 UFC career so far. He also lost his last bout and will be looking to rebound against an opponent with many credentials. Unfortunately for Brundage, the elite grappling skills of Vieira will be too much to handle. As long as the jiu-jitsu ace doesn't gas himself out like he has previously, he should pick up another victory.
Prediction: Rodolfo Vieira by submission
Caio Borralho (-360) vs. Michal Oleksiejczuk (+295)
Another middleweight clash fills up the co-main event spot and what a fight do we have on our hands. A spot in the top 15 of the 185-pound rankings is on the line when Caio Borralho (13-1 (1NC)) meets Michal Oleksiejczuk (18-5) in a battle between two risers of the middleweight division.
Since making his UFC in April 2022, Borralho has yet to taste defeat inside the Octagon. He's a perfect 3-0 in the promotion after coming through the Contender Series and is riding a huge 13-fight unbeaten streak. His opponent has finally found some momentum since returning back to middleweight from light heavyweight, winning his last two by TKO at 185 pounds.
It's a classic grappler vs. striker matchup. Can Borralho keep Oleksiejczuk down? Will Oleksiejczuk land a devastating knockout blow to end his opponent's unbeaten streak? Anything could happen but Borralho is simply on another level right now. He grinds out another victory to crack the top 15 and continue his unbeaten run.
Prediction: Caio Borralho by decision
Main event: Song Yadong (-105) vs. Ricky Simón (-115)
In the eyes of many fans, this was the fight to tune into during UFC Vegas 71. It is a huge shame that Moicano was forced out from his bout but Song Yadong (19-7-1(1NC)) vs. Ricky Simón (20-3) is easily the next best main event we could've gotten.
A pair of ranked prospects in perhaps the deepest division in all of MMA, this is a fight with both huge implications and intrigue. A win could push either of them into the top five, especially Simón as he is yet to fight any of the truly elite 135 pounders. Song was unfortunate to run into a determined Cory Sandhagen in his last fight but there is no shame in losing to one of the top guys in the division.
It is such a close fight to call that not even Vegas seems prepared to pick an outright favorite. Song is good at every aspect of MMA but his stand-up is easily his biggest weapon. I don't expect Simón to want to test Song's power, grinding out a competitive decision win over his opponent with a wrestling-heavy approach.
Prediction: Ricky Simón by decision
UFC Vegas 72: Song Yadong vs. Ricky Simon takes place on Saturday, April 29, 2023, live from the UFC APEX in Las Vegas, NV. Follow along with FanSided MMA for all your news and highlights.