TUF 31: Who is Rico DiSciullo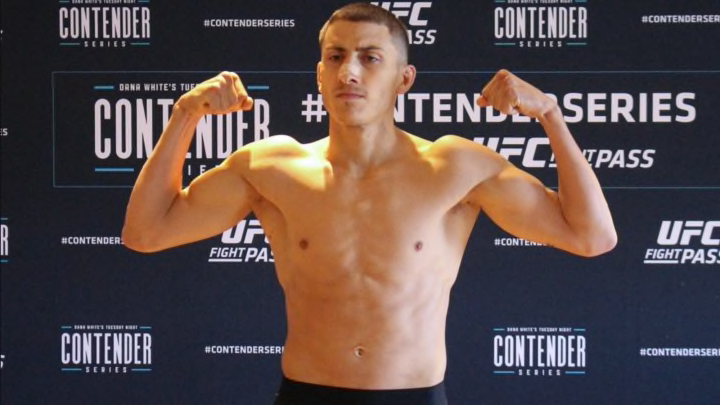 Rico DiSciullo /
Who is The Ultimate Fighter 31 contestant Rico DiSciullo?
The 31st season of The Ultimate Fighter is a little over a month from premiering. This season is met with high expectations as it parades Conor McGregor's long-awaited return to the Octagon. McGregor has been sidelined since breaking his tibia in his trilogy fight against Dustin Poirier in July 2021. However, McGregor is expected to fight Michael Chandler this year, a return preluded by a season of TUF with both men as opposing coaches.
The show gives MMA fighters from different promotions a chance to fight for their UFC dreams. This upcoming season's roster includes 36-year-old Rico DiSciullo, an 11-2 bantamweight from Peabody, MA. DiSciullo fights out of Team Sitdyotong in Boston. He made his most recent appearances in Combat FC and Combat Zone, collecting two wins in both local promotions.
Rico DiSciullo fight style and career highlights
Out of his 11 career wins, DiSciullo finished seven of his opponents. His well-roundedness has shown throughout his career, scoring both knockout and submission victories. A brilliant display of his arsenal came in a win against Seth Basler in CES MMA in 2017. DiSciullo landed a body kick to fold his opponent and then locked in the rare Peruvian Necktie submission to win in the first round.
DiSciullo is no stranger to the UFC, as he competed in Dana White's Contender Series in 2018. Unfortunately, he suffered a TKO loss to Montel Jackson in the third round.
After his appearance in DWCS, DiSciullo took some significant time away from the sport to tend to injuries. "I was actually prepping for another fight," he told Newsweek. "And about two weeks before it took place, I had some knee issues for a while. It ended up giving out. My meniscus completely tore. It's what they call a bucket tear in the meniscus."
DiSciullo followed a specialist's advice to back out of the bout to prevent his knee issues from worsening. By the time his knee healed, the COVID-19 pandemic put the world on pause-- further prolonging his cage hiatus.
DiSciullo finally returned in Mar. 2022 with a rear naked choke finish in the first round against Rob Fuller. Three months later, he followed it with a doctor's stoppage win against Gareth de la Cruz. DiScullio is riding the two-win streak into his second attempt at the UFC.
The Ultimate Fighter 31 will premiere on Tuesday, May 30, 2023, and will air exclusively on ESPN at 10 p.m. ET/7 p.m. PT. Follow along with FanSided MMA for all your live results and highlights.