PFL 2: Larissa Pacheco vs. Julia Budd full results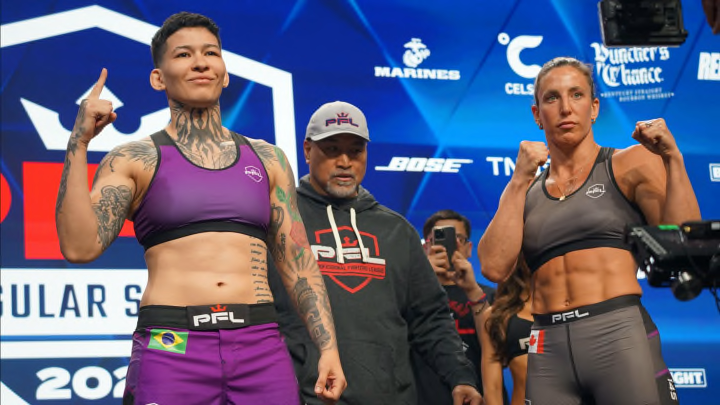 Larissa Pacheco and Julia Budd headline PFL 2 / Amy Kaplan/FanSided MMA
PFL 2: Larissa Pacheco vs. Julia Budd full results.
The PFL hosts its second card of the regular season from Las Vegas, NV on Friday. This card features women's featherweight and men's heavyweight fighters along with an amateur bout featuring the grandson of Muhammad Ali.
The main event is starring 2022 lightweight champion Larissa Pacheco and former Bellator featherweight champion Julia Budd. Other women's featherweight standouts include Aspen Ladd, Olena Kolesnyk, and Amber Leibrock.
The co-main event includes 2021 heavyweight champion Bruno Cappelozza who sat out the 2022 season and will return to face Matheus Scheffel in hopes of earning the 2023 title. Other standouts on the heavyweight portion are Danilo Marques, Yorgan De Castro, and Maurice Greene.
As mentioned above, there will be a rare amateur fight featured on the main card when Biaggio Ali Walsh takes on Isaiah Figueroa. Ali Walsh was signed to PFL last year and made his debut at the championships where he finished his fight in 45 seconds.
Every result for PFL 2: Larissa Pacheco vs. Julia Budd
Main card
Larissa Pacheco defeated Julia Budd via unanimous decision (30-27, 29-28, 30-27)
Bruno Cappelozza defeated Matheus Scheffel via TKO, Round 1 - 2:15
Olena Kolesnyk defeated Aspen Ladd via majority decision (28-28, 29-28, 29-28)
Biaggio Ali Walsh defeated Isaiah Figueroa via TKO, Round 1 - 1:42
Preliminary card
Rizvan Kuniev defeated Renan Ferreira via unanimous decision (29-28, 29-28, 30-27)
Maurice Greene def. Marcelo Nunes via TKO (punches) – Round 2, 1:20
Danilo Marques defeated Yorgan De Castro via unanimous decision (30-27, 30-27, 29-28)
Amber Leibrock defeated Martina Jindrova via KO (head kick), Round 1 - 2:19
Evelyn Martins defeated Karolina Sobek via unanimous decision (29-28 x3)
Marina Mokhnatkina defeated Yoko Higashi via TKO, Round 2, 1:29