New UFC signee Sharaputdin Magomedov kicked his opponent after losing grappling match (Video)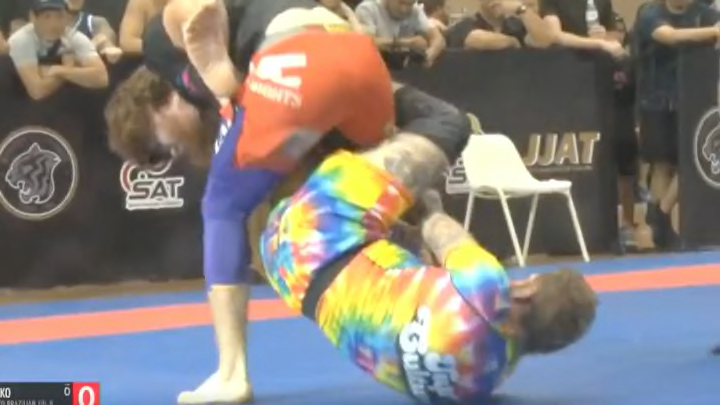 Sharaputdin Magomedov / Twitter
Sharaputdin Magomedov blasted by fans for unsportsmanlike conduct at grappling event.
Sharaputdin Magomedov hasn't even made his UFC debut yet but he already had two incidents of rage documented in his come-up.
Magomedov competed in the ADCC Bangkok Asia Open in late May and tapped to a heel hook. He immediately got up to confront his opponent and kicked him. It appears as though he was protesting the tap and may have been disqualified from the event, though it's unclear at press time.
Magomedov's opponent, Jakub Bilko, shared the video on Reddit, joking that he "literally got my a** kicked" and fans took to the comments to blast Magomedov for his behavior.
"Should definitely be banned for this," someone commented. "Absolutely a tap, followed by unsportsmanlike behavior. F**k that guy," someone else said.
"Turns out him being a dickhead wasn't a one off thing, hope he gets ragdolled by Khamzat," someone said. Another fan commented, "Giant POS that assaulted a straight couple for kissing in public."
In March 2022 a video of Magomedov knocking out a man in a shopping mall over kissing a woman in public when viral.
In the video. a couple kiss briefly on an escalator and Magomedov says something to the man. They begin arguing and a fighter ensues once they reach the ground floor. They were separated by security but Magomedov allegedy waited for the man outside the mall where Magomedov KO's him as shoppers watch in shock.
Magomedov explained his side of the story to Match TV in Junes.
"In Moscow, this is acceptable, [but] with us this is unacceptable. I could not remain silent and not make a remark," he told the outlet in Russian (translated by RT Sport). "If it was a tourist or a foreigner, you could simply ask him [to stop]. I simply wanted to say that he wasn't acting very correctly, but I didn't manage to tell him anything. He took it the wrong way apparently. There was also pride. He hit me. I'm a professional fighter, it was unexpected for me, especially since we were inside a shopping center. I offered him to come out and talk, but he hit me."
It's been rumored that Derek Brunson will fight Magomedov at UFC 294 but it hasn't been confirmed by anyone officially at press time.