Mark Zuckerberg competes in, wins first jiu-jitsu tournament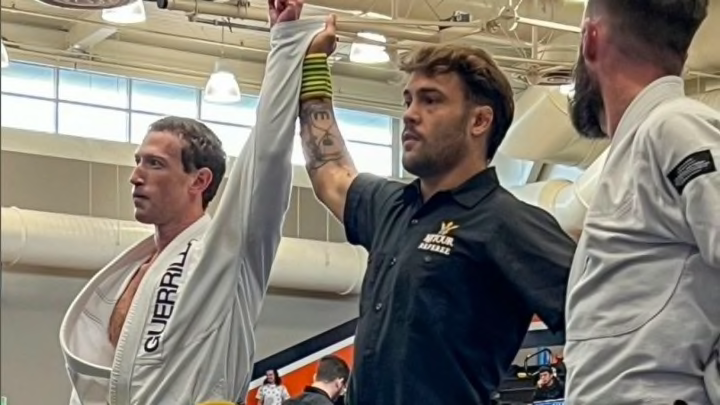 Mark Zuckerberg / Instagram
Facebook founder Mark Zuckerberg has competed in his first BJJ tournament and he actually did really well.
Mark Zuckerberg isn't just a fan of martial arts. He's putting his love of the art into practice and competed in his first jiu-jitsu tournament on Saturday.
The Facebook founder has been posting about training for quite some time but this was the first time he put what he's learned to the test.
"Competed in my first jiu-jitsu tournament and won some medals for the Guerrilla Jiu-Jitsu team. Thanks to @davecamarillo @khaiwu @intense0ne for training me!" he wrote on the caption.
Facebook's Mark Zuckerberg earned 2 medals in his first BJJ competition
The event took place in the Bay Area and, according to Zuckerberg he placed first and second in his competitions.
He credited his wins to his coaches Dave Camarillo, Khai Wu, and James Terry.
Several UFC fighters commented on the post congratulating him including past and present champions like Israel Adesanya, Brandon Moreno, Alex Volkanovski and more.
"Legend! Love the shorts mate," Volkanovski replied.
Marlon "Chito" Vera wrote, "What a G brother." Several BJJ stars also commented, "All respect congrats" Rodolfo Viera wrote and Marcus "Buchecha" said, "That's awesome congrats."
One of his coaches wrote a post gushing about his progress.
"I've been privileged to witness some amazing individuals do amazing things in my career," Camarillo wote. "And I have been honored to play a small role in their life. Yesterday was one of those times. It's inspiring to see someone so known challenge themselves in a new arena. This goes to show how amazing the art of Jiu-Jitsu really is. It changes you, it enhances the power of will - it is magic. It also attracts some very driven people. @zuck I am honored to train with you, teach you and learn from you. You are truly an amazing person. Thank you for sharing your drive, your enthusiasm and your graciousness to all of us!"
Zuckerberg has been a big supporter of MMA and recently attended a private UFC event in Las Vegas.