'F***king gangster!' Luke Rockhold inspired by UFC champion ahead of BKFC debut (VIDEO)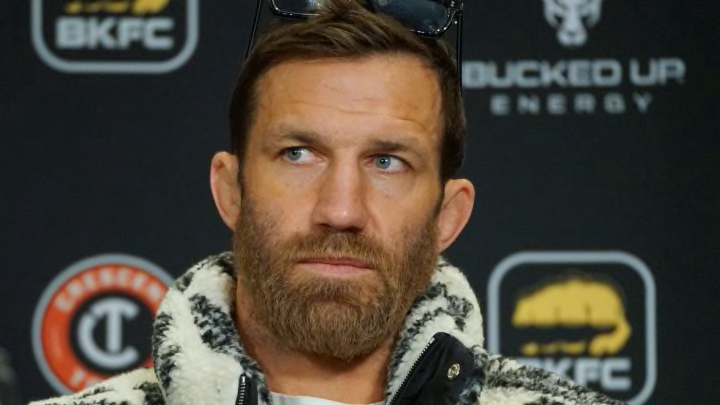 Luke Rockhold / Amy Kaplan/FanSided MMA
Luke Rockhold says he's inspired by UFC champ Israel Adesanya ahead of fighting Mike Perry at BKFC.
Former UFC middleweight champion Luke Rockhold is finding inspiration for his BKFC debut in an unlikely place.
According to Rockhold, Israel Adesanya's knockout of Alex Pereira at UFC 288 has amped him up just weeks before he sets to get into the bare-knuckle ring with Mike Perry.
"Look what Izzy did," Rockhold told Submission Radio."Everyone counting him out, everyone doing that, and he stepped forward and did his thing. Anybody who's a f*cking real motherf*cker who's gonna step forward and want to prove people wrong and use that as a driving force – other people just sit back behind their channels and talk sh*t and make excuses and chitter-chatter and hate on people, and I'm just f*cking sick of it. And I love spitting in those motherf*ckers' faces. Hock big loogies in all your haters' faces."
Luke Rockhold thinks he's also inspired Israel Adesanya through the years 'You drive inspiration through everybody'
Rockhold and Adesanya have been UFC middleweight champion, though Adeanya still holds the belt.
"I'm sure I inspired Izzy as he was younger, and he's inspired me. You drive inspiration through everybody. He was a f*cking gangster. He was super gangster," Rockhold said. "It was picture f*cking perfect. Good for him."
Rockhold will fight Perry in the main event at BKFC 41 in Denver, CO on April 29, 2023. Follow along with FanSided MMA for all your live results and highlights.