Female fighters flash breasts to crowd following tag team MMA fight (Video)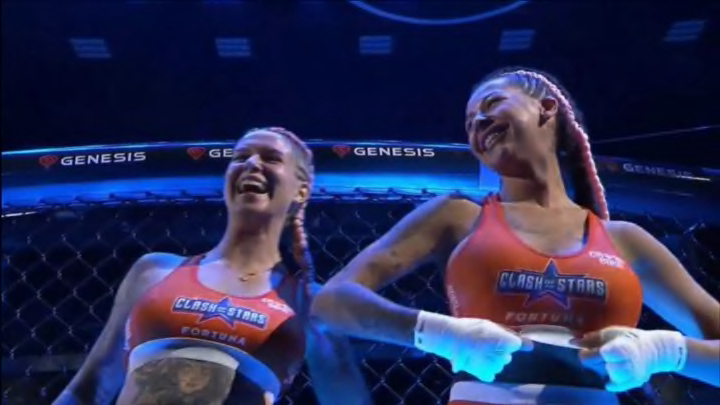 MMA fighters flash breasts / Twitter
Two models turned MMA fighters flashed their breasts to the crowd following their MMA fight.
Well this is a new one.
According to The Sun, two female fighters (and OnlyFans stars) competed at the Clash of the Stars fourth event, Freak Wars.
The women, identified as Inked Dory and Karina Pedro competed as a pair against actress Kristal Shine and model Denisa Ryndova in the Czech Republic this week and caught a lot of attention for kissing their opponents during the face-off.
But things got even weirder when flashed the crowd while standing together on the cage's apron.
After the fight, Inked Dory took to Instagram to share her experience.
"I was going to write a heartbreaking caption, but I will just say thank you to the coaches and everyone who came to support me. I gave it everything I had in me. And even though I know wrongly that I could have done a lot of things differently or better, I am incredibly proud of me and @karinkapedro And I have to admit that our opponents did an outstanding job."