Bellator MMA vs. Rizin FF and Rizin 40 live results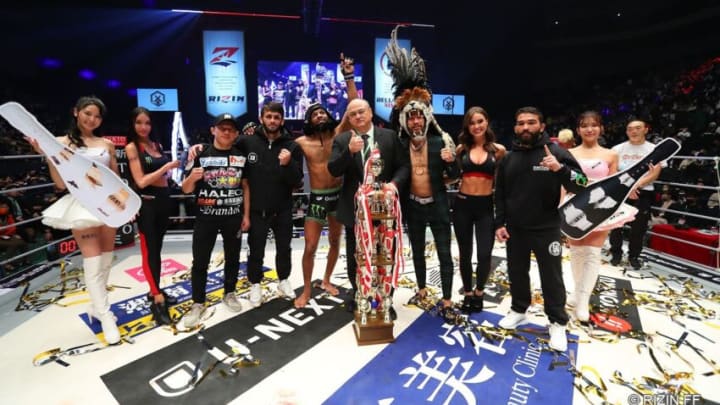 Bellator MMA vs. Rizin FF and Rizin 40 live results.
No one does fight presentations like MMA outfits in Japan. To kick off the night of main fights between Bellator and Rizin, the folks at Rizin dusted off the old PRIDE FC theme and introduced each fighter and his opponent, and to say people had goosebumps would be an understatement. The folks over in Japan really know how to do an intro, and the Bellator fighters matched that energy with each walk out.
But that's what you should expect when Bellator goes to Japan to partner up with the Japanese promotion. The two promotions have been doing this for some time now, and it's great to see that some of that old PRIDE magic that got so many of us into MMA in the first place is still there.
If the entrances and pageantry weren't enough for you, the fights would be more than enough with A.J. McKee taking on Roberto de Souza in the main event. Patricio "Pitbull" Freire will take on Kleber Koike in the semi-main event, with Juan Archuleta and Soo Chul Kim being the third fight on the card. Former RIZIN fighter Kyoji Horiguchi returns to his old promotion to take on Hiromasa Ougikubo and Koji Takeda takes on Gadzhi Rabadanov to start the final portion of the show.
Bellator MMA vs. Rizin FF, Rizin 40
Bellator X Rizin (Showtime tape delay at 8 p.m. ET)
A.J. McKee defeated Roberto de Souza via unanimous decision
Patricio Pitbull defeated Kleber Koike via unanimous decision
Kyoji Horiguchi defeated Hiromasa Ougikubo via unanimous decision
Juan Archuleta defeated Soo Chul Kim via a split decision
Gadzhi Rabadanov defeats Koji Takeda via unanimous decision
Rizin 40 (FITE TV PPV at 12:01 a.m. ET)
Seika Izawa defeated Si Woo Park via a split decision
Naoki Inoue defeated Kenta Takizawa via submission (armbar), in Round 2 – 3:53
Junior Tafa defeated Tsuyoshi Sudario via TKO, in Round 1 – 1:38
John Dodson def. Hideo Tokoro via knockout in Round 1 – 1:43
Intermission
Boxing: Ren Hiramoto defeated Genji Umeno via knockout in Round 2 – 3:00
Yuki Motoya defeated Rogerio Bontorin via knockout in Round 2 – 2:56
Johnny Case defeated Nobumitsu Tyson via TKO in Round 1 – 0:36
Chihiro Suzuki defeated Yoshiki Nakahara via knockout  in Round 1 – 4:44
Sho Patrick Usami defeated BeyNoah via knockout  in Round 1 – 0:45
Yushi Sakura defeated Tatsuya Nakazawa via unanimous decision
Bellator MMA vs. Rizin FF and Rizin 40 takes place on Saturday, Dec. 31, 20220 live from the Saitama Super Arena, in Tokyo Japan. Follow along with FanSided MMA for news and highlights.